Patented Percolator Technology
Return To Top

Retention Barrel Diffuser: Our Subzero waterpipe is available in two different diffuser core variations - X3 and X5. Regardless which one you choose to buy, our patented retention-barrel technology comes standard in both diffuser cores.
​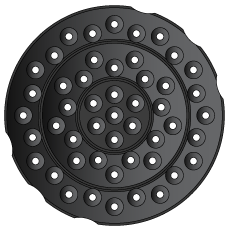 49 PercolatorRetentionNozzlesX5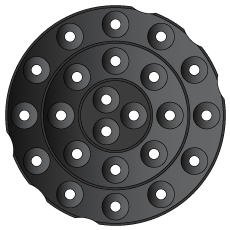 23 PercolatorRetentionNozzlesX3
What is a retention barrel diffuser?
It is a diffuser whose bubble-producers (the holes that produce the bubbles) have been geometrically optimized for prolonging the exposure time between the smoke and the water, thereby maximizing the filtration (smoothness) of the water pipe.
What do they look like?
Retention barrel diffuser nozzles consist of a small hole (nozzle) with a sharp transition to a larger hole (barrel), the small hole having a very small length, whereas the larger hole extends almost the entire thickness of the percolator (diffuser) disk.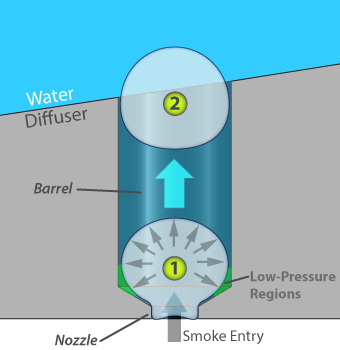 How do they work?
The overall formation process of the smoke bubble is broken down into three steps: Formation, Retention, and Discharge.
1) Formation: smoke passes through the nozzle, where the smoke bubble inflates until its diameter roughly matches the diameter of the barrel.
2) Retention: smoke bubble then breaks free of the small nozzle and travels a small distance up the length of the barrel.
3) Discharge - Once the bubble has traveled the length of the retention barrel, it is held at the surface of the diffuser until a disturbance from the neighboring bubble occurs causing it to break free and float up to the surface of the waterpipe.
Do they clog? No, our retention barrels have been meticulously engineered to control tar deposition. This is what actually gave birth to the "retention barrel" design. Click here to read about the history of its development.